Join us for a special evening celebrating Latinx/Hispanic Heritage at Olivewood sponsored by Maker's Mark! In honor of The Kitchenistas®, we will celebrate culture with an evening of dinner, drinks and camaraderie. Maker's Mark will craft curated garden-to-cup cocktails that will delight your senses while guests wander the gardens. Aureny Aranda and the Kitchenistas are planning a divine dinner focused on the components that give Maker's Mark it's distinct taste – corn, wheat & barley, while weaving in her own signature flavors. Join us for a coursed dinner & dessert with a special Q&A with some of Olivewood's respected Kitchenistas. This event is for adults aged 21 and over.
Celebrate good food, culture & community!

Chef Aureny Aranda (Kitchenista, Generation #7)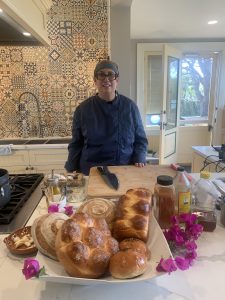 "I was born in Mexico City, but my first years were spent in Guadalajara with my grandmother, who was my main influence on my passion for cooking. As a teenager, I began studying pastry at La Baguette, one of the most important pastry shops at the time in Mexico City. After several courses, I completed a technical career in pastry at the same school at the age of 17. My studies continued at the Center for Professional Studies in Gastronomic Arts. I continued studying gastronomy while living in Connecticut, and taking chocolate courses in New York City. I worked in Grupo Anderson's restaurants while teaching food handling courses at Televisa, CONASUPO & Roche Laboratories.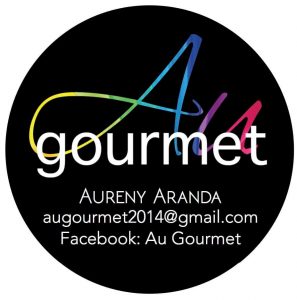 In 1999, I moved to San Diego and formed the Au Gourmet brand where I had dedicated myself to the production of artisan granola, spices, bread & catering. I graduated as a Kitchenista in 2016 and have since collaborated with Olivewood Gardens as a volunteer chef. My husband is Mexican Lebanese, which has inspired me to learn how to cook Lebanese food. I'm a mom of 2 teenage girls, and I love to spend time to help them pursue their dreams."

"If we could make it any faster, we wouldn't." Because with Maker's Mark, it's one bottle at a time. Every time. Maker's Mark distinctive flavor comes from their unique mash bill, made from the perfect balance of red winter wheat, locally-grown corn & malted barley. Since day one, Maker's Mark has proudly partnered with local, family farms to source ingredients. The Maker's Mark distillery is uniquely located near a limestone shelf – which is key to crafting the unique flavor, as Kentucky limestone filters out the unpleasant taste of iron in bourbon. Maker's Mark uses an 150 year old heirloom yeast strain that is passed down to every bottle ever produced.
Our Bartenders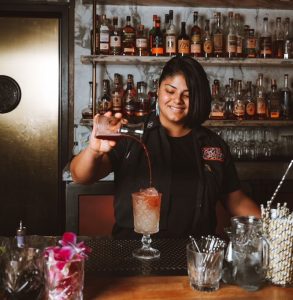 Andrew & Ella from Good Fortune Hospitality, are excited to collaborate with Olivewood, The Kitchenistas, and Maker's Mark to craft some unique and garden inspired cocktails. Their passion is pouring sustainable and low-waste cocktails, using all parts of a plant and ingredients to create amazing flavors. They are excited to be pouring at the event to Celebrate Cultura and support the work at Olivewood.

Our Speakers
Jacqueline Ante – Kitchenista, Generation #10
Jacqueline is from Mexico, born and raised in Tijuana, BC. She currently lives in National City with her husband and two kids. Jacqueline is a proud Kitchenista and has witnessed how a lack of access to quality and nutritious food impacts life and health negatively. Jacqueline worked at Olivewood Gardens supporting Kitchenista programming, coordinating nutrition education classes throughout the community, and as Volunteer Coordinator for 3 years. She continues to work in the community supporting others to be leaders and see the importance of how education can teach ways to improve your and your family's health.
Patty Corona – Kitchenista, Generation #1
Patty is the Director of Kitchenista Engagement & Cooking for Salud at Olivewood Gardens. She grew up between Tijuana, Santa Veronica Ranch in Tecate and summers at her grandmother's ranch in San Pedro, Jalisco. She obtained her B.A. in Foreign Trade and Customs at Universidad Iberoamericana del Noroeste in Tijuana. After a year as a volunteer at Olivewood, the Children's Home Society of California offered her an intensive training about nutrition curriculum in Spanish, which helped to open the doors to National City community. After becoming a Kitchenista of the 1st Generation of Cooking for Salud, Patty was highly motivated to have a higher and deeper impact in the community and became a Resident Leadership Academy facilitator. She found her real passion in the combination of teaching about nutrition, cooking and leading the Kitchenistas to become a driving force in the community.
Angélica Gastélum – Kitchenista, Generation #7
Angélica Gastélum is the Marketing Manager at Olivewood Gardens. A San Diego-Tijuana native, Angélica has over 10 years of experience in marketing. She has most recently volunteered her time in her children's school and local church. Angélica is a Kitchenista graduated from the 7th Generation, and is honored and thankful for the opportunity to call Olivewood Gardens, 'work' and to be part of such a dedicated staff that share a passion for healthy and sustainable programs.

We are very grateful for the Kitchenistas who helped make this event a reality: Aureny Aranda, Jacqueline Ante, Lourdes Briseño, Cynthia Sanchez, Leticia Sanchez, Isabel Torres, Patty Corona & Angélica Gastélum. Proceeds from our paid programming helps to support our free programs like Cooking for Salud, that has now graduated 400 Kitchenistas.