Featured Recipe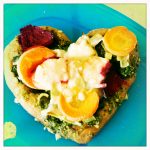 Veggie Pesto Pizza
-
Try this recipe for a fun, healthy family cooking experience! Leafy greens are abundant during this winter season and are delicious with this pesto recipe. Yum!
Latest Recipes
Warm Cabbage Noodle Citrus Salad
-
Warm Cabbage Noodle Citrus Salad Created by Maria Hesse Serves 4-6 Ingredients for Dressing 2 tablespoons Tamari or soy sauce 3 tablespoons Apple Cider Vinegar 2 tablespoons almond butter or peanut butter 1 tablespoon of honey or maple syrup 1/4 teaspoon chili powder Ingredients for Salad 4 scallions thinly sliced 1 cup carrot grated or ...