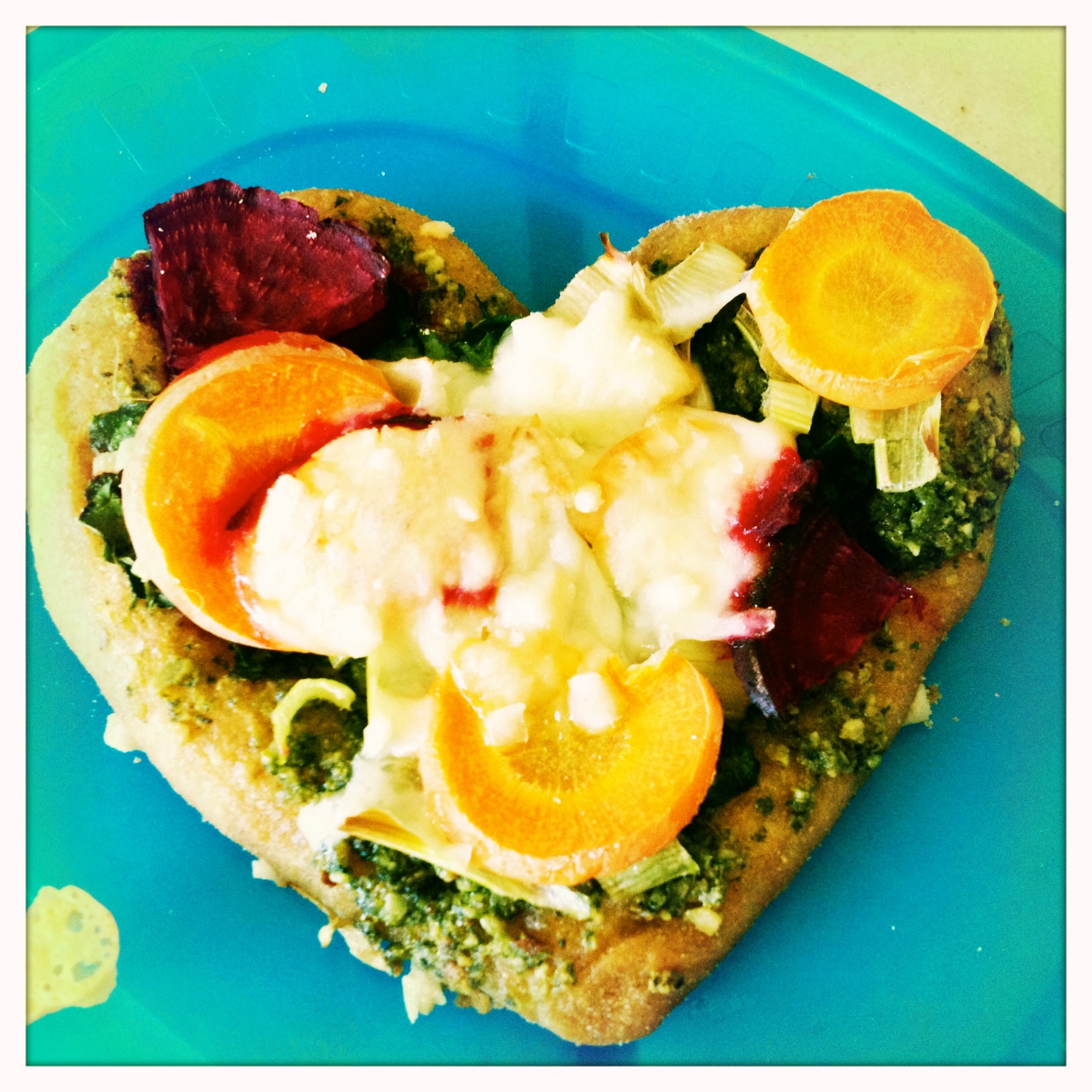 Veggie Pesto Pizza
Created by Kati Christensen
Serves 4-6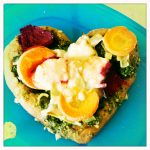 Ingredients for Pizza
1 large beet, shredded
¾ cup mozzarella cheese, shredded
½ leek, diced
1-2 leaves of swiss chard, torn
1-2 leaves of kale, torn
1 cup fennel bulb, thinly sliced
1 package of whole wheat pizza dough (can be found in the refrigerator section at the grocery store)
Cilantro-cotija pesto (see recipe below)
Directions for Pizza
1. Preheat oven to 400˚.
2. Roll out pizza dough to 6 to 8 inches. Use flour if the dough begins to stick. Add about 3 tablespoons of the pesto to the dough and spread it out to cover whole pie.
3. Spread beets, kale, swiss chard, leeks and fennel over dough. Then sprinkle with cheese (you might not need all the cheese).
4. Bake at 400˚ until the cheese is bubbling and dough is cooked through. Enjoy!
Cilantro-Cotija Pesto
Adapted from Chef Brendan Liszanckie
Ingredients
1 cup of pepitas
1 cup basil
1 cup olive oil
1 cup cilantro
1 jalapeno
2 garlic cloves
½ cup cotija cheese, crumbled
salt and pepper, to taste
Directions
1. Toast pepitas until lightly browned.
2. Pulse cilantro, basil, jalapeno, cheese, toasted pepitas and garlic in food processor until roughly chopped.
3. On low speed, slowly add olive oil until immersed. Season with salt and pepper. Enjoy on vegetables, whole wheat pizza, tacos or whole wheat pasta!
•••••
Pizza de Vegetales y Pesto
Creada por Kati Christensen
Para 4-6 personas
Ingredientes para la Pizza
1 betabel pequeño, rallado
¾ taza de queso mozzarella, rallado
½ puerro, cortado en cubitos
1-2 hojas de acelgas suizas, en trozos
1-2 hojas de repollo rizado, en trozos
1 taza de bulbo de hinojo, en rodajas finas
1 paquete de masa para pizza de trigo entero (se puede encontrar en la sección de alimentos refrigerados en la tienda de comestibles)
Pesto de cilantro-cotija (ver receta en la parte de abajo)
Instrucciones para la Pizza
1. Precaliente el horno a 400˚.
2. Estire la masa de la pizza de 6 a 8 pulgadas. Utilice un poco de harina si la masa comienza a pegarse. Agregue alrededor de 3 cucharadas del pesto sobre la masa y extiéndala sobre toda la cubierta.
3. Cubra la masa con el betabel, repollo rizado, acelgas suizas, puerro y el hinojo. Luego espolvoree con el queso (no necesitará todo el queso).
4. Hornee a 400˚ hasta que el queso esté burbujeante. Disfrútela!
Pesto de Cilantro-Cotija
Adaptada por el Chef Brendan Liszanckie
Ingredientes
1 taza de pepitas
1 taza de albahaca
1 taza de aceite de oliva
1 taza de cilantro
1 chile jalapeño
2 dientes de ajo
½ taza de queso cotija, desmoronado
sal y pimienta, al gusto
Instrucciones
1. Tueste las pepitas hasta que estén ligeramente doradas.
2. En un procesador de alimentos coloque el cilantro, la albahaca, el chile jalapeño, el queso, las pepitas tostadas y el ajo. Pulse hasta que todo quede picado toscamente.
3. A velocidad baja, agregue lentamente el aceite de oliva hasta que quede inmerso. Sazone con sal y pimienta. Disfrútelo con vegetales, pizza de trigo entero, tacos o con pasta de trigo entero!